Read Time:
3 Minute, 8 Second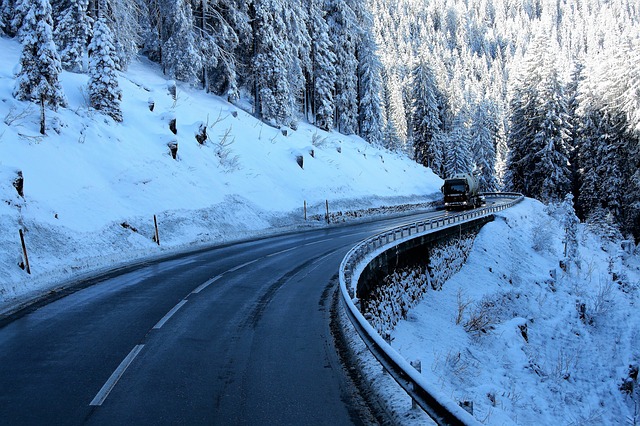 Being prepared
Drivers need to have the right equipment for different situations and ensure the following items are in the cab these include:
A shovel and a bag of salt or sand
Ice scraper and a de-icer
Jump leads
A high-visibility jacket
A flashlight
An extra pair of warm clothes and a warm blanket in case a driver gets stranded
The truck should always have at least a half tank of fuel – the journey can take longer than planned or might be forced to look for alternative routes.
Inspecting the vehicle
It is important to adjust the regular checks during winter and make sure you pay special attention to:
Battery – charging system and power
Tires – pressure, wear, and balance
Fluid levels – topped up
Windscreen wipers – they should work and be free from snow and ice
Lights – fully functional
Defrosters – make sure they are working
Exhauster – they should be free of snow
It is a lot harder to carry out daily paper-based walkaround checks when it is cold, which makes it a good idea to switch to an electronic forms app. You don't have to worry about wetting or damaging the paperwork and illegible writing. You won't need administrative support when inputting the information into a system.
Checking the conditions
It is important to keep up-to-date with weather information and know any changing conditions and closed routes using radio, GPS system, and getting updates from drivers regularly. Telematics can help with this because you will know where the drivers are, the opportunities to find safer alternative routes and the routes that they are taking.
Driving carefully
Sudden and sharp movements can lead to loss of control, even if the conditions are great. The problem becomes a lot worse when driving during winter. The drivers need to;
Slow down – most accidents happen because the drivers are going too fast. This is more dangerous for HGV drivers because it is going to take more time to bring the vehicle to a stop.
Allowing extra space – you allow yourself time to react to the vehicles ahead by increasing the stopping distance. When the roads have ice and snow, keep ten times the normal stopping distance. Hazardous weather mainly ice and snow, rain, and fog are associated with accidents, it is important to think about sun dazzle too.
Being consistent – maintain a steady speed and go easy on the brakes.
Knowing the rules
When changing lanes for the different road conditions, HGC drivers have a rule of thumb. When driving during winter, they use four or five blinks then move to the next lane slowly. Your drivers shouldn't try matching the speed of those driving around them. This should have all been covered in your CPC training.
When driving on a winter road, the driver has to use their hazard lights and hold their speed – this is going to let the other road users know that they are going slower than them.
Being mindful of hazards
It can be challenging to drive an HGV in winter, but there are some hazards the drivers need to pay close attention to:
Black ice – this is a very dangerous condition, and it is going to come as a thin layer of transparent ice that makes the rood look wet. You can know there is a risk of this condition when you notice a build-up of ice on the antennae, mirror arms, or the top corners of the windshield, and a lack of spray from the cars in front.
Fog – thick fog limits visibility, the drivers need to slow down and use their lights. The drivers should never feel pressured to go faster than they are comfortable with. There is no need to risk when they can just choose a speed they are comfortable with.